Providing care services for tombs and graves in Tashkent.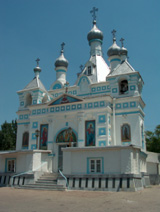 Dear compatriots! You are welcome to explore a special programme on providing care services for tombs and graves of your relatives and close friends. Due to some circumstances, a large amount of Russian speaking population left Uzbekistan ...
In these regards, special services are developed to keep cemeteries, tombs and graves in proper and good condition. The full list of our services is provided under the Grave care services section. We provide our services both within Tashkent city cemeteries and throughout the whole territory of Uzbekistan. We also provide tombstone installation services based on agreed prices.
We can proceed with your order after the following information is received from you:
1. Name of cemetery, where grave is located.
2. Map number, year and date of grave.
3. Distinctive and remarkable facts related to grave.
4. Form of tombstone, manufacture material, type of railings, crosses, and etc.
After you place your order either by phone or email, our expert will visit the grave location (if it is known). If the grave location is not known or accurate data is not available, we also provide services on searching and locating the graves.