City cemetery 2 (Dombrobod)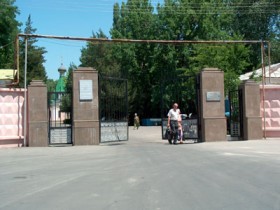 City cemetery 2 of the department for civil services of the Tashkent city municipality (and simply "Dombrobod" cemetery) was founded in 1964. The cemetery is located in Chilanzar district of the City, not far from the "Tashkent Hippodrome" market. "Dombrobod" cemetery is one of the largest European cemeteries not only in Tashkent but in the whole Central Asian region.
The first graves here are dated back to 1965. The approximate number of graves reaches 450,000 people with 15,500 Jewish.
The cemetery consists of 168 maps, 35 of which are Jewish and 3 of which are "Communist" maps.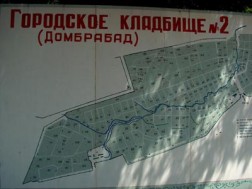 There is an Orthodox Church (founded in 1991) named after Saint Duke Vladimir on the territory of the cemetery. Rabbi Shmil Arbus is always available at Jewish maps of the cemetery.
The relatives of those who buried here highly differently are visiting the cemetery. Some of them visit graves one year (usually at the date of death), but there are also some graves that are being visited once in every 5-8 years. The number of visitors decreases from year to year.
The state of graves and tombs is highly different from one to another. Grave and tomb care is undertaken by relatives, and also by friends and cemetery workers if the relatives have left the country.
Famous people whose graves are located at the cemetery
There are some famous people whose graves are located at the cemetery:
| | | |
| --- | --- | --- |
| Famous director of Children's home No. 22 A.P. Hlebushkina (died in 1988) | | |
| Honoured artist of Uzbekistan B.V. Brovtsin (died in 1982) | | Composer, artist, professor, Honoured artist of Uzbekistan G.A. Mushel (died in 1989) |
| Honoured artist of Uzbekistan, laureate of State Prize named after Hamza R.D. Vildonov (died in 1987) | | Honoured doctor of Uzbekistan T.A. Kuznetsova (died in 1989) |
| General-major V.E. Sohatskiy (died in 1988) | | Composer, Honoured artist of Uzbekistan A.A. Berlin (died in 1989) |
| Honoured pilot of USSR V.D. Pan (died in 1989) | | Honoured economist of Uzbekistan S.A. Horkovskiy (died in 1982) |