Cemetery 1 (on S.P.Botkin street)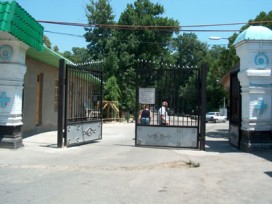 City cemetery 1 of the department for civil services of the Tashkent city municipality is located in the city center. Cemetery 1 (and simply "Botkin cemetery") is one of the ancient, historical cemeteries of Tashkent city. The cemetery is being considered as the European one with the first graves dated back to 1850. Unfortunately, the archive of the cemetery was burned down in 1918. The number of graves from 1918 to June'2000 exceeds 332 thousand people. The total number of maps is 29.
The cemetery is divided into 2 parts:

The first part of the cemetery is a general part with people of different nationalities (Russians, Armenians, Greeks, Jewish, etc.) buried here. Although some maps are represented by people of only one nationality.
The map 8 is approximately Armenian.
The first part of the cemetery has 26 maps.

The second part of the cemetery is so called "Communist part". It has 3 maps with some famous scientists, Communist party officials, intelligentsia representatives, military officials, participants of World War II buried here.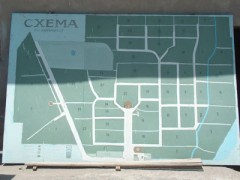 The "Communist" part of the cemetery has some graves of Greek political emigrants.
There is an Orthodox Church named after Saint Alexander Nevskiy on the territory of the cemetery. The senior priest of the Church is Настоятель храма отец Николай.
The cemetery is being visited highly irregularly. After the collapse of the USSR, many families left Tashkent. Many of them never come to visit the graves but there are some people who visit the graves of their relatives almost every year.
The state of graves and tombs is highly different from one to another. There are some really good-looking tombs maintained in a proper condition. But, there are also many graves that are not being visited by anybody.
Famous people whose graves are located at the cemetery
There are some famous people whose graves are located at the cemetery:
Academician S.V.Starodubtsev (died in 1967)
Journalist, writer, daughter of S.A. Esenin, Tatyana Sergeevna Esenina (died in 1992)
Players of Tashkent "Pakhtakor" football team tragically died in air crash on August 11, 1979
Metropolitan of Tashkent Nikondr (died in 1933)
Archbishop of Tashkent Gavriil (died in 1971)
Metropolitan of Tashkent Arseniy (died in 1936)
General-major K.S. Terpetskiy (died in 1907)
Corresponding member of Uzbek Academy of Sciences I.S. Kontsepolskiy (died in 1976)
Professor of oriental studies M. Pikulin (died in 1985)
Honoured doctor of Uzbekistan M.B. Frank (died in 1989)
Honoured doctor of Uzbekistan M.Ya. Zavadskaya (died in 1970)
Writer V.V. Ovechkin (died in 1968)
Honoured Sport-Master, champion of the World V. Krestyannikov (died in 1969)
Famous boxer S.L. Jackson (died in 1966)
Honoured scientist, professor, laureate of the USSR state prize V.A. Djordjio (died in 1974)
People's artist of Uzbekistan N.V. Kashina (died in 1977)