European-Jewish cemetery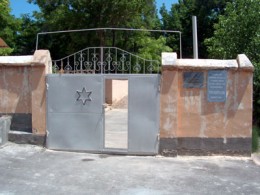 European-Jewish cemetery (the old name - "Textile" cemetery) is located in the central part of the City, next to "Textile factory". The first graves here are dated back to 1944. The number of graves from 1944 to 1965 is 14,320 people, from 1965 to 1988 - 2,150 people, from 1988 to 2003 - 581 people, the total number of graves is 16,300.
The cemetery consists of 8 sectors: 6 sectors are Jewish, 2 sectors are Russian. Each sector has 12 rows, but there are also some sectors with 30 rows.
The state of graves and tombs is highly different from one to another.
The cemetery also has Bukhara-Jewish sector with more than 1,000 graves. All graves and tombs here are in a very good and proper condition. The sector is officially counted as a part of European-Jewish cemetery.
Famous people whose graves are located at the cemetery
There are some famous people whose graves are located at the cemetery:
Famous doctor-oncologist, professor M.B. Krepitser (died in 1981)
Honoured lawyer of Uzbekistan Arentorg